A: Haha: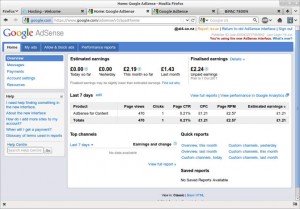 Not quitting my day job.
Despite increasing revenue by 50% over the previous month I still need to increase revenue a further 500% to cover the costs of running this site. And at the moment it's a tiny 256MB instance on Rackspace Cloud which, traffic depending, costs me a bit under £10 a month. To run WordPress properly however you really need 512MB minimum, even with the meagre traffic this site receives… so the cost should be closer to £20.
What I'd like to do is be able to justify running a cloud load balancer with two front-end web nodes and a separate DB node at the backend. Assuming all 256mb instances the cost of that setup would be about £1 per day, which should be too hard to deliver on an affiliate site, even if it isn't this one. Hmm. Project time.

While this site does reasonably well on a few Ubuntu-related terms, it's not hard to see why this site has such a poor click-through rate. For one thing the articles are mostly tech-focused, and I know myself when I'm Googling for a solution I literally skim the article for the code blocks, maybe think "that looks right", and I'm gone in 10 seconds.
If it was a particularly tricky problem or the solution was a good one I might hang around long enough to leave a comment but most of the time I don't, even though I like receiving comments myself.
The other reason it does badly is that I don't really want the ad banner to get in the way, you'll notice there's only one banner, and its to the right and not even at the top.
Plus I'm using a stock theme and update once in a blue moon.
This site needs some love.
Or for more people to click the following link and spend lots of money with Rackspace.