Viber (the kiwi/brit in me really wants to spell it "Vibre"), is a VoIP app for cell phones that uses a data connection to make free calls, much like Skype and other VoIP systems. The idea is great in principle, but in practice it doesn't quite gel with how I use my phone.

Firstly there's the user interface: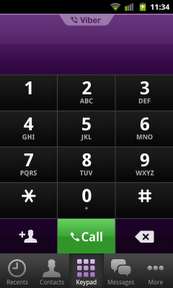 This SCREAMS iPhone to me, and this is an Android phone. If I wanted my phone to behave like an iPhone, I'd have bought an iPhone.
Then there's the issue with battery life. The Viber FAQ states "Viber is light weight (sic) application and in general it does not drains (sic) the battery".
I must beg to differ: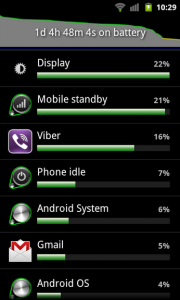 To be fair, any VoIP configuration is going to add significant battery drain, as does mobile standby on a standard network. The issue is that we have to stay connected to two networks. And to be fairer still to Viber I think it is a lot easier on your battery than Skype, which basically can't be left on standby unless you charge your phone twice a day.
My complaints about interface are subjective, but I want a VoIP experience that integrates with the built-in phone apps, not one that requires a new user interface. Skype on the N900 should be the model here.
So while Viber is nice for keeping in touch with friends overseas, I don't really want it running in the background. The problem is that I can't yet see how to prevent this without removing it altogether.
The other barrier is of course the contract plans, which are generally very generous on included minutes, but much less so on data. Funny that.