My impromptu post about Viber gained a little more attention than I thought it would, prompting a discussion about battery usage and even attracting a response from the Viber development team.
I've said it before and I'll say it again, it was never a proper review, just a highly subjective and unscientific personal impression of the app! My main complaint was and remains that it looks like an iPhone app (I probably should have complained about the purple colour while I was at it).
They did ask that I test the new version (2.1.2), released on October 12, 2011, so naturally I feel as though I should test it in the same fashion as before. That is to say, open Android's battery life screen after Viber has run for a while and take a screenshot. :)

I'm still running the same OS as before, Cyanogenmod v7, and the results of my totally-not-scientific experiment, with a sample size of one, indicates that battery usage is indeed down on the earlier version: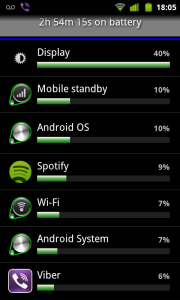 Thus I can report that, subjectively, battery usage appears lower than the earlier version.
Statistical analysis of the results from my two experiments would indicate that the Viber development team have succeeded in reducing battery consumption by a whopping 62.5%. But if you trust that you're a tool.
As I have said before, staying connected to a VoIP network such as Viber is not without some cost to battery life, but even assuming my result is indicative as the time remaining figure in a Windows XP file copy window, 6% is a pretty small price to pay.