It was time to upgrade. The 40D has been a trooper, but it hasn't seen much use recently. Whether it's the inconvenience of its compact flash memory cards, or just sheer size and weight, I have seldom felt the need to travel with it.
The 40D was released 8 years ago in 2007, which is a very long time in technology. I bought mine at the start of 2009, just after the release of the 50D, which carried a 30% price premium over the older model. I've never regretted my decision to go with the 40D, and I've had over 30,000 shutter actuations out of it, most of those with my favourite lens – a Canon EF-S 10-22mm f/3.5-4.5 USM
. Now days, you can get a much cheaper 10-18mm lens which is slower (f/4.5-5.6), but has a STM motor and image stabilisation, making it much better for video. If you don't already have an ultra-wide angle lens, seriously, get this one.
In the past year though, I've probably shot less than 100 frames with the 40D, favouring a much smaller Panasonic GX1 with a Samyang 7.5mm fish-eye and the excellent 20mm f/1.7 pancake. These lenses are as sharp as they are useful, but when using the little GX1 I don't really feel like I'm "doing photography". The experience is that of using a point & shoot, but the pictures I can take with it are almost as good as the 40D (better in low light with the f/1.7 pancake actually). Lugging the SLR doesn't really make sense.
Looking through some of my old photos recently made me realise how much I miss the Canon 10-22mm lens. The fish-eye is fun, and even has a wider field of view, but images from rectilinear lenses afford more creative flexibility in my opinion; the fish-eye look is distinctive, and not one you really want to characterise all your images.
A lack of options
It was a while before 40D and 50D owners had a real upgrade path, and the 70D is arguably the first true "heir" of the XXD series since the 50D, or at the least the first in the same price range to better the older cameras in every specification. Ever since Canon made the 60D much more "consumer" oriented, semi-pros and enthusiasts have cried out for a true replacement for the 40D and 50D, without the high price tag of the 7D. Personally though, I wouldn't have had much beef with the 60D had I brought one. The tank-like build of the 40D always seemed excessive for my needs, and it was better than the 40D where it needed to be. The 70D though, is a significant upgrade and I'd encourage you to read dpreview's article.
So, I finally decided to upgrade my SLR, opting for the heavily discounted 70D rather than waiting for the 760D for about the same money. There's just something about getting a £1,000 camera for closer to £500, even if it is almost 2 years older!
But if you're reading this you probably want to know; what's it like to upgrade?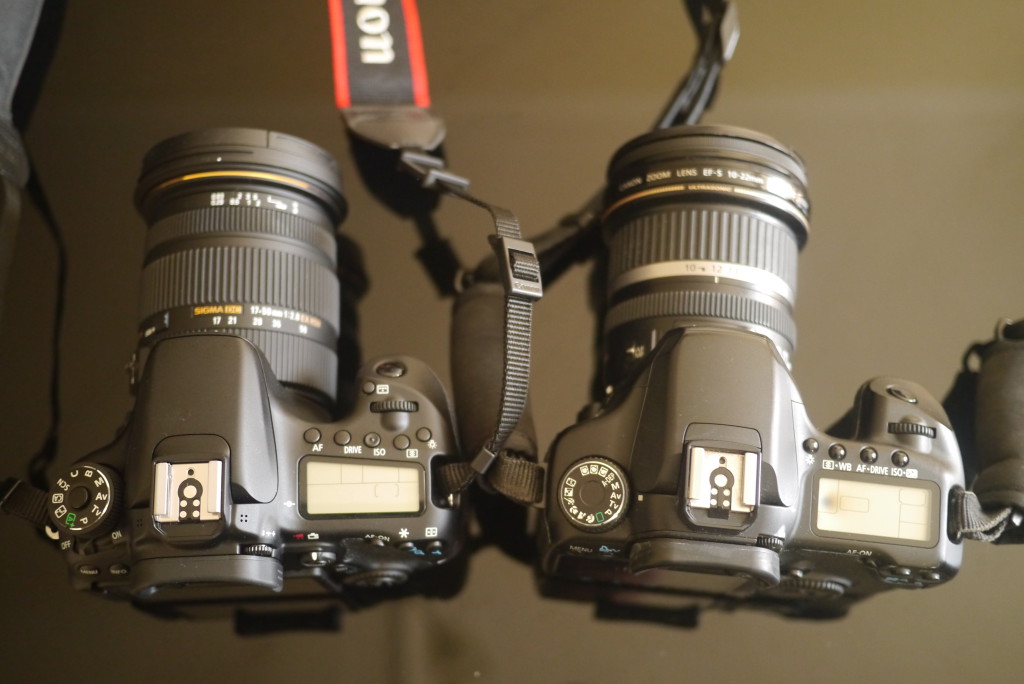 Size and weight
The 70D is lighter, noticeably so, but not so much that you'll start losing tone in your right arm. The 40D is a tank, and while I wouldn't describe the 70D in the same way, it still has an appreciable heft to it.
The 10-22mm lens balances extremely nicely on the 70D, it feels like a better fit than it did on the 40D actually, but this reverses with the Sigma 17-50mm f/2.8. The Sigma is a heavier lens, which balances slightly better on the 40D, but still extremely well on the 70D.
Subjectively, the weight of the 40D + 10-22 is about the same as the 70D + 17-50. The difference being, with the 40D more of the weight is in the body. So yes, the 70D sheds some pounds, but these are both big cameras.
Grip
The 70D's grip looks more compact but somehow feels "chunkier" – I prefer it to the 40D. The 40D has more space between the grip and lens and is better for gloves. It's a trade-off, but given how rarely I have used the 40D with gloves it feels like a good one.
As for the battery grip, I bought one for the 40D and used it twice. I don't plan to buy one for the 70D so no comment there!
Controls
Already missing the 40D's rear dial and joystick.
The 40D has the same control layout as Canon's pro cameras, and it's excellent at not getting in the way. The 70D's dial is smaller, more fiddly, but I'm sure I will get used to it with time. I really am not liking the feel of the directional controller in the middle however, "mushy" would be a generous way to describe it.
The 40D's joystick was extremely useful for changing the focus point, but the 70D has a button next to the shutter for cycling through point options, and after that it's a matter of rolling a dial (or using the mush-pad) to set. This makes it easier to change the AF area mode, at the expensive of being a little slower to set the actual point. So, another trade-off but not an altogether bad one. And the improvements to the focus system itself make up for any disadvantages many times over.
And then there's the touchscreen.
Generally I prefer to shoot with the camera to my eye, but for the situations where you need to hold the camera above your head, the touchscreen will be extremely useful. This is a great feature to have.
Viewfinder
If anything I'd say the 40D's viewfinder feels a touch larger, but that doesn't make sense as they have the same magnification. It could be something to do with the 70D having slightly broader coverage, so chalk this up as a narrow win to the 70D. It's a long way from the small dim viewfinders of XXXD cameras, but of course you pay for this with weight.
WiFi
Obviously the 40D never had this. It wasn't a major selling point for me, but there is one situation where I think it will be very useful, and that is group photos that include me in the picture!
Turn wifi on, set timer to 2 seconds, open the EOS Remote app on your phone and you have a camera remote without carrying around something dedicated to the task. Brilliant.
Some have criticised the WiFi as being complex to set up, but as someone who works in IT I find it logical and very well implemented. Couldn't be happier to have this feature!
Batteries
One of my concerns when Canon released the 5D mark II was the new coded batteries. This was an attempt to prevent third-party batteries from working as well as Canon ones, and cut counterfeiting. It worked for a while, but you can now buy batteries on eBay or Amazon which function identically to the real thing. I bought two for £16, which look, feel and were packaged like high-quality items, but it's hard to tell what's on the inside. Avoid anything Canon branded for less than £50 – it's highly likely to be fake, and probably worse quality than 3rd-party batteries which don't try to deceive you.
Overall
The GX1 with its pancake lens will still have its place in my bag, as other than the "nifty fifty", no other EF lens I have can match its depth of field in the standard range. 20mm f/1.7 on a micro four-thirds sensor is roughly equal to a full-frame 40mm lens at f/3.5. This quite a bit of depth-of-field, something which the Sigma can't match; f/2.8 on a 1.6x APS-C sensor is roughly equal to f/4.5 on full frame. To match that little Panasonic lens I'd need a 25mm lens of at least f/2.0, something which doesn't exist for APS-C to my knowledge.
The Sigma 18-35mm F1.8 DC HSM
beats it, but carries a massive size and weight disadvantage. The Sigma 30mm f/1.4 DC HSM
is the only lens I can see that exceeds it in a reasonably compact pacakge, but it's definitely no pancake.
From now on though, I can't see myself using the Samyang fish-eye any more, unless I'm very constrained for luggage. My 10-22mm is back with a new body, and I'm sorry I ever left it!
Some links on this article are affiliate links, which pay a commission if you purchase after clicking them. This site is a hobby and runs at a loss, so any revenue helps pay for server costs. Thanks for your support!